Develop and refine your writing style; deepen your literary analysis, and gain the broad, flexible, and indispensable skills that prepare you for a wide variety of graduate programs and careers with the English bachelor's degree program at Franciscan University of Steubenville in Ohio. The major in English consists of three concentrations: British and American literature, Western and World literature, and Writing. If electives permit, you can work on more than one concentration at a time. If you're interested in teaching, you may also work in the Adolescent and Young Adult (AYA) Literature program.
Deepen your insight into the human condition
Through your Franciscan University English degree, grounded in the Catholic intellectual tradition, you'll grow in your understanding of the human condition, the world, your Catholic faith, and God. You'll search for truth, goodness, and beauty in works of both fiction and nonfiction from diverse cultures and literary traditions. You'll learn from mentoring English degree faculty who stay current in their particular research fields, from contemporary Christian poetry to medieval literature.
Explore More of the English Bachelor's Degree Program
Here are just a few other ways Franciscan's English bachelor's degree program stands out from the rest:
Financial aid and scholarships: Connect with the Franciscan Office of Financial Aid to explore financial aid and scholarships that can make your degree in English even more affordable.
Applied learning: Put your English degree to work and gain invaluable hands-on experience through internships with publishing companies and other entities in Ohio and across the United States. On the Franciscan University campus, you can work as a peer writing consultant at the Writing Center or work on writing projects for the Marketing and Communications Department. Focus on research that's of interest to you through self-directed courses led by Franciscan Catholic faculty.
Teacher preparation: Through the Adolescent to Young Adult (AYA) licensure program at Franciscan University, you can prepare to teach students in grades 7 through12 — in Ohio or across the country. Under the guidance of an education advisor, you'll take education courses and student teach so you're well equipped for your future teaching career.
Experienced faculty: You'll learn from Catholic faculty members who are actively writing, including the author of 26 books of poetry and a scholar who published a journal article on Tolkien's early abstract paintings. These devoted scholars are also dedicated Catholic teachers who want to prepare you to make a difference in the world as a disciple of Christ. Through English Department meet-and-greet sessions, you can enjoy food and soft drinks while getting to know one another and your professors even better.
Online options: The English Department offers several courses online, including the core course ENG210OL, the first online course at Franciscan to be developed by a faculty team.
English Degree Concentrations
English majors may choose among three concentrations at Franciscan: British and American Literature, Western and World Literature, or Writing.
In British and American Literature you will be exposed to a broad range of styles, ideas, and authors, with authors ranging from the medieval world to the most current trends in English-language literature. Our students enrolled in this Literature Bachelor's Degree Program usually take courses in classical mythology, Shakespearean works and more.
The Western and World Literature concentration looks at the British and American traditions, but moves beyond them to explore the traditions outside the English-speaking world. Students will be exposed to subjects such as Russian literature as well as modern world literature.
Students in the Writing concentration experience and develop the writing process through the reading of great literary models, through collaboration with real audiences, and through editing and incorporating writing techniques and strategies into their own styles. Students learn to appreciate not only content but also style. A variety of written discourses is presented for students to emulate and to analyze as they experience their own voice through writing. Within this concentration, students will engage in composition and creative writing courses, all while coming to understand their need as writers to present truth and beauty with concision and clarity.
Note that all English majors have specific graduation requirements. During senior year, you will develop and present a well-reasoned senior thesis as well as compile a collection of written work from your years of study to be put into a diverse portfolio.
No matter what your focus area, when you leave Franciscan's English Bachelor's Degree Program, you will possess a deeper understanding of the human person, the world, and God, equipped with the ability to think critically and write well—two of the most sought-after skills by today's employers.
What Can You Do With an English Degree?
The possibilities for your future are seemingly endless when you major in English at Franciscan University. You can use your English degree to pursue graduate studies in a variety of areas, including law, education, and political science, or to go on to seminary. Writing, editing, and publishing jobs for English majors are plentiful. With the strong communication skills you gain through your English degree, you'll also be in demand for jobs in nearly every industry. You'll also find Franciscan English majors teaching in Catholic schools throughout the United States and all over the world.
Graduate Programs for English Majors
Master of Arts in English
Master of Arts in Journalism
Master of Arts in Media Studies
Master of Arts in Theology
Master of Fine Arts in Acting and Directing
Master of Fine Arts in Creative Writing
Master of Science in Communications
Master of Science in Education
Potential Job Titles for English Majors
Attorney
Copywriter
Editorial Assistant
High School Teacher
Journalist
Library Director
Marketing Director
Technical Writer
Web Content Manager
Writer
Inquire For More Information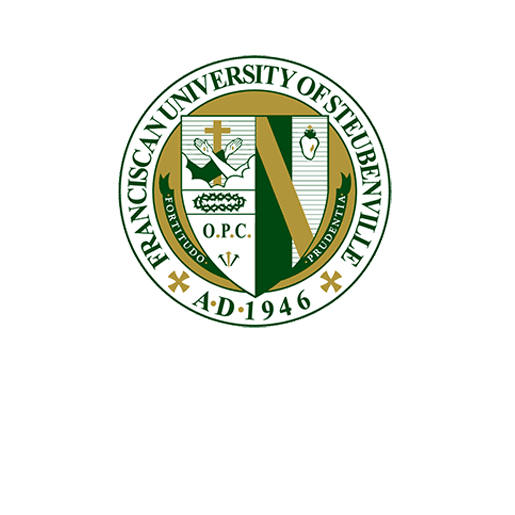 Study at Oxford University
Study the medieval, Renaissance, and early modern periods at the Centre for Medieval and Renaissance Studies at Oxford University in England. The semester-long opportunity is ideal for English majors.
International English Honor Society
Through Franciscan University's Omicron Iota chapter of Sigma Tau Delta, the international English honor society, you'll make lasting connections with distinguished English majors on campus and nationally and internationally. Society members serve others through service projects right here in Steubenville, Ohio. You'll also have opportunities to write for the Sigma Tau Delta literary magazine, which could lead to recognition and awards.
Study the great writers and walk the streets where they once walked through the Austria Program at Franciscan University. Take English, history, and other courses, taught by Franciscan faculty, in a 14th-century monastery that also serves as your home. Explore Europe during three-day weekends, spent with other English majors and students from Franciscan and other private and public universities and colleges.
Still undecided? You might also be interested in these other undergraduate degree programs at Franciscan that are similar to the English bachelor's degree.