Department of English
READ ARTICLE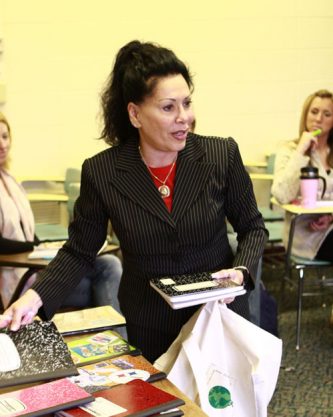 Professor of English
Chair of English Department
"The day I lose my passion for teaching is the day I leave the classroom."
That day, if it ever comes, will not come soon for Dr. Mary Antoinette Gallo Sunyoger.
Born and raised in Steubenville, Sunyoger '70 received a BA in English from Franciscan University. In 1975, she earned an MA in modern American literature from Kent State University, and in 1995, a PhD in English education and writing literacy from Kent State.
"I was always intrigued by how people respond to language, how words are related to words, and how putting words together can create beauty."
After teaching English for 10 years at a local Catholic high school, Sunyoger decided to stay home when her son was born. Two years later, she was asked to teach two English classes at Franciscan.
"That was back in 1980, and I've been here ever since," she says.
Sunyoger has been instrumental in developing the English Major/Writing Concentration Program, expanding the writing courses from one to the many current offerings.
Teaching composition is her passion. "It makes me excited to read my students' 'masterpieces' and to see their enjoyment in what they can create and how they can be stretched."
Among her many achievements, in 1999 Dr. Sunyoger founded and began directing the Writing Center, which helps students of any major improve their writing skills.
Additionally, Sunyoger is a published author. One of her recent books, Life Lessons: A Connection of Souls Throughout Life's Journey, contains 41 brief chapters that represent her years of teaching up to the time of publication in September 2013. "The book is a celebration of students whom I've taught from high school days to university days," she says. "It's a thank-you to them for teaching me life lessons."
She tells students their gift of writing brings the "obligation to represent beauty, truth, and goodness." Sunyoger also stresses that they need to respect their classmates. She honors her parents for teaching her "to respect and care about people."
A parishioner at Holy Family Church and a member of the Serra International Organization, Sunyoger says, "I hope I'm leaving my students with more than just what's in the books. I hope I'm emulating the Great Teacher, Christ."
BA in English – Franciscan University University of Steubenville
MA in modern American literature – Kent State University
PhD in English education and writing literacy – Kent State University