Classics Program
Classics Bachelor's Degree Program Overview
What are the classics?
Classics is the study of the ancient Greek and Latin languages, of the literature, philosophy, and history of Greece and Rome, and of the influence of the whole classical tradition on subsequent civilizations.
Classics at Franciscan University
In the classics bachelor's degree program at Franciscan University of Steubenville in Ohio, you will learn ancient Greek and Latin and have the option also to learn biblical Hebrew. You will read in their own language some of the greatest Greek and Latin writers who stand at the origin of the Western tradition, such as Homer, Plato, Virgil, and Cicero. You will also read in the original languages works central to the foundations of Catholic doctrine, such as the Greek New Testament, the Latin Vulgate Bible, and the Latin and Greek Fathers of the Church. Round out your knowledge of the Catholic and Western tradition with courses in such areas as philosophy, theology, history, and the literature of other languages.
Explore More of the Classics Bachelor's Degree Program
Here are just a few other ways Franciscan's classics bachelor's degree program stands out from the rest:
Desirable job skills: As a classics major, you'll develop exceptional language skills, from a wide English vocabulary and a strong knowledge of grammar to a careful sense of what to say and how to say it. Courses in the classics bachelor's degree program also instill exceptional analytical skills. All of this will prepare you for the rapid changes that occur daily in many job settings.
Undergraduate research: Based on close analysis of classical and early Christian and Catholic texts, you'll write seminar papers and a senior thesis, as well as give presentations at Franciscan's GRACE exhibition in Ohio and at external conferences.
Passionate faculty: Highly rated by current classics majors, the program faculty members are very active in their students' work. As Catholic scholars, they cherish the life of the mind and the great Catholic and Western tradition, with its roots in Greek and Roman thought — and they share this love of tradition with their students.
Small class sizes: The department features a low student-to-faculty ratio, which provides opportunities in and out of the classroom for one-on-one guidance and personalized attention. With faculty support, you may even be able to tailor your course work to explore a particular area of interest.
Learning beyond the classroom: Attend Living Latin seminars and hone your verbal Latin language skills. Help preserve and catalogue the University's Greek and Roman coin collection. You can do this and more as a classics major at Franciscan, one of the top Catholic universities in the country.
What Can You Do With a Classics Degree?
The bachelor's degree in classics at Franciscan University helps you develop skills and habits of mind that are necessary and useful in any educational or career path. Classics graduates have secured teaching positions in Catholic, private, public, and charter schools in Ohio and across the country, as well as jobs in multiple areas outside academics. They also build a solid foundation for graduate studies in the classics and related fields such as comparative literature, classical archaeology, and Ancient philosophy.
Graduate Programs for Classics Majors
Master of Arts in Classics
Master of Arts in Theology and Christian Ministry
Master of Arts in History
Master of Arts in Literature
Juris Doctor Law Program
Master of Business Administration
Medical School
Forensic Archaeology
Potential Employers for Classics Majors
Catholic, Primary, and Secondary Schools
Educational Administrations
Museums
Think Tanks
Technical Writing and Copyediting Departments
Journalistic Media Companies
Inquire For More Information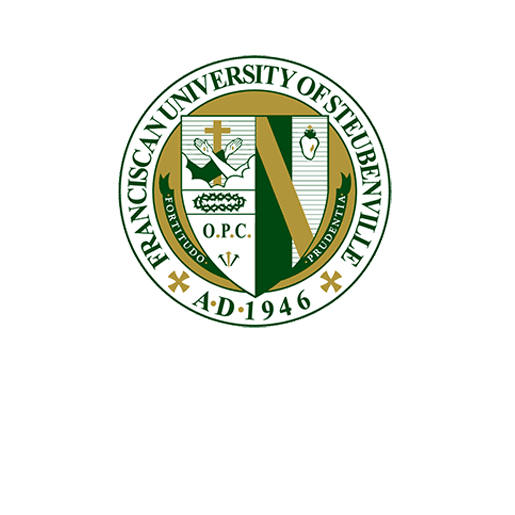 Summer Ancient and Biblical Languages Institute
The Summer Ancient and Biblical Languages Institute at Franciscan University offers intensive courses in Latin, ancient Greek, and Biblical Hebrew in ten and five week programs during the University's summer sessions.
Join other classics majors for special events on campus in Steubenville, Ohio, such as social gatherings, Greek and Latin translation contests, and scholarly lectures. Teach Greek and Latin languages to students in the community. Assist professors in their research projects. Participate in grant-funded summer studies and outreach events.
Study the Holy Sites of Europe
Go on pilgrimage to Catholic churches and holy sites in Europe, including Rome, through the Franciscan study abroad program. Travel from Franciscan's campus in Ohio and live and learn in a 14th-century monastery in Gaming, Austria. Explore big questions about life in intensive philosophy and theology classes. Immerse yourself in this Catholic faith-based study abroad experience.
Programs Related to the Bachelor's in Classics
Interested in a double major? You might consider these other undergraduate degree programs at Franciscan that are complementary to the classics bachelor's degree.
Get information about taking the language placement exams during New Student Orientation.