Department of Communication Arts
READ ARTICLE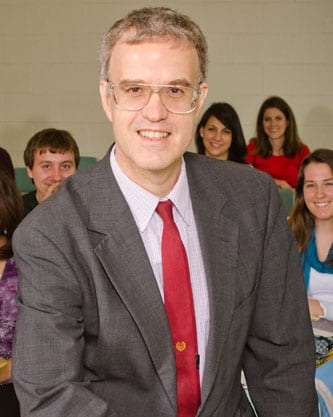 Chair, Communication Arts
Professor of Communication Arts
Advisor, WFRScc (Student Radio Station)
Supervisor, Digital Audio Lab
Ph.D. Communications – The Ohio State University (Columbus, OH)
M.A. Telecommunications – Southern Illinois University (Carbondale, IL)
B.A. Radio-Television – Southern Illinois University (Carbondale, IL)
Fulbright Teaching-Research Grant, Nanyang Technological University (Singapore)
Faculty Teaching and Leadership Award, Franciscan University of Steubenville
Millennium Outstanding Paper Award, Rochester Intercultural Conference, Rochester Institute of Technology
Phi Kappa Phi National Honor Society
Asian Mass Communication Information and Research Center
American Film Institute
Board of Directors, Urban Mission Ministries, Steubenville
International Communication Association
Communication Institute for Online Scholarship
Phi Kappa Phi National Honor Society
Association for Education in Journalism and Mass Communication
St. Louis Press Club
MEDIA INDUSTRIES, HYBRIDITY, AND MARKETING: GLOBALIZATION AND EXPANDING AUDIENCES FOR INDIAN CINEMA
is co-author of a chapter in the Oxford University Press collection Travels of Bollywood Cinema: From Bombay to LA," edited by Anjali Roy and Chua Beng Huat. The lead author is Dr. Kavita Karan from Southern Illinois University and is entitled "Media industries, hybridity, and marketing: Globalization and expanding audiences for Indian cinema" (2012).
BOLLYWOOD CINEMA AT THE CROSSROADS
is the lead author of the peer-reviewed article entitled "Bollywood cinema at the crossroads: Tracking the dimensions of globalization in postcolonial popular Hindi cinema" in the journal Mass Communication and Society, volume 14, number 6, pages 700-719 (2011). The data was collected as part of his sabbatical research fellowship at the top-ranked Nanyang Technological University in Singapore in 2008-2009.
BOLLYWOOD CINEMA, EMOTIONAL AROUSAL, AND STEREOTYPES
Dr. Schaefer was lead presenter of the peer-reviewed research paper entitled "Bollywood Cinema, Emotional Arousal, and Stereotypes: Assessing Cortical Activity Among Novice Viewers in a Western Setting," presented at the International Communication Association Annual Conference," Phoenix, Arizona, in May 2012. Collaborators included Dr. Joseph Pathakamuri and Dr. Stephen Sammut at Franciscan University and Dr. Kavita Karan at Southern Illinois University.
BOLLYWOOD IS BREAKING AROUND THE WORLD
was Quoted in the article "Bollywood is Breaking Around the World" about the global impact of Indian cinema, Pittsburgh Post-Gazette, Tuesday, March 31, 2009, http://www.post-gazette.com/pg/09090/959362-60.stm.
CATHOLIC NEWS SERVICE
was interviewed by and quoted in the Catholic News Service about the global impact of Bollywood cinema, 2009.
FRANCISCAN UNIVERSITY CONNECTIONS
is the Executive Producer, Digital Audio Editor, Mixdown Engineer, and Voice-Over Talent for the EWTN Radio Program Franciscan University Connections, which was aired on the EWTN/WEWN International Radio Network from 1995 to 2003.
FRANCISCAN UNIVERSITY FACULTY ENRICHMENT GRANT
was awarded the Franciscan University Faculty Enrichment Grant to co-present the keynote speech "Media industries hybridity, and marketing: Globalization and expanding audiences for Indian cinema" at the 5th Annual Conference on the Internationalization of Business in a Changed Environment, Rajiv Academy for Technology and Management, Mathura, India, 2009.
FROM THE DIALOGIC TO THE CONTEMPLATIVE
is lead author of the blind-peer-reviewed article "From the dialogic to the contemplative: a conceptual and empirical rethinking of online communication outcomes as verbing micro-practices" in a special edition of the competitive international journal Ethics and Information Technology focusing on "Ethics in Software Design", 11(4), 265-278, 2009.
FULBRIGHT SCHOLARSHIP
was Awarded the Prestigious Fulbright Scholarship, granted by the U.S. State Department, to teach and conduct media literacy research at Nanyang Technological University, Singapore, 2004-2005.
GUEST ON THE DREW MARIANI SHOW
was a Guest on the Drew Mariani Show, Ave Maria Radio Network, discussing the global impact of the British Film Slumdog Millionaire's success at the 2009 Oscars (live), 2009.
Dr. David J. Schaefer (Ph.D., The Ohio State University, 2001) is a Professor and chair in the Department of Communication Arts at Franciscan University of Steubenville in Ohio. In the 1980s and 1990s, he worked as a children's program producer in public television and as an announcer and newscaster for several commercial radio stations in the midwest. Beginning in 1995, he produced an international radio program, Franciscan University Connections, for the EWTN/WEWN global network. He currently is the advisor for the campus radio stations WFRScc and WFENcc.
He has taught undergraduate courses in digital audio/video production, media literacy, film history and theory, Indian cinema, international communications, web design, and media theory, and graduate courses in critical-cultural theory and Indian cinema. He specializes in research on popular Indian (Hindi) cinema, digital media competency/literacy, and global/intercultural communication. He has presented numerous conference papers and published journal articles and book chapters on several of these topics.
He is a member of the Phi Kappa Phi National Honor Society, the International Communication Association, the Communication Institute for Online Scholarship, the Asian Media Information and Communication Centre, and serves on the Board of Directors for Urban Mission Ministries. In addition, he is a Fulbright scholar and was awarded a lecturing-research grant to Singapore in 2004-2005. While on sabbatical in 2008-2009, he served as a Senior Research Fellow at the Wee Kim Wee School of Communication and Information at Nanyang Technological University in Singapore, where he was co-director of the Indian Film Research Project that has been supported by grants from Nanyang Technological University and Franciscan University of Steubenville.