Department of Communication Arts
READ ARTICLE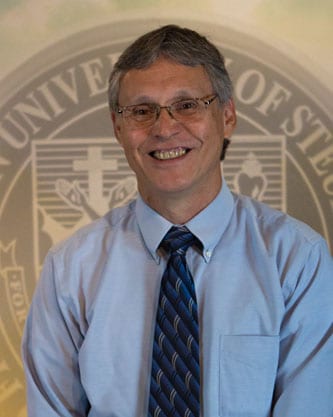 Associate Professor of Communication Arts
Advisor, Troubadour
Dr. Wayne Lewis came to Franciscan University following a newspaper career that included stints as a police reporter, general assignment reporter and photographer. He also was an editor during his six years in newspapers, all of them in the Southeast.
While he was pursuing a master of arts in mass communication at the University of Florida, he was offered a teaching assistantship During his teaching assistantship, he enjoyed working with the next wave of journalists so upon graduation, he decided to try it out on a full-time basis. He was hired at Franciscan University in 1986.
During that time and the ensuing years, Professor Lewis – he had not yet earned a doctorate – helped build the program by developing additional courses, such as Feature Writing, Publication Design, Mass Media Law and Media Ethics.
In 1995, he resigned from the university to pursue a doctorate at Regent University in Virginia Beach. Following his three years there, God brought him back to Franciscan.
Beyond the classroom, Dr. Lewis champions free speech as he advises the Troubadour, the student newspaper at Franciscan.