English Program
Luminous details, sweeping narratives
All that was and is, alive with heightened intensity
The stories of humanity, preserved in language
English majors at Franciscan University take a front row seat in the great conversations of the ages. You will immerse yourself in poetry, plays, memoirs, essays, short stories, novels, all springing from the fertile minds of history's great communicators. Telling the stories of cultures long lost or the ones in which the reader is most interested.
Students of literature are students of humanity, observed through a passionate study of a uniquely human characteristic, intelligible, dynamic language. Observe the story of humanity, expressed in words, turns of phrase and rhythm, across barriers of culture, language, time, and distance.
English Degree Concentrations
English majors may choose among three concentrations at Franciscan: British and American Literature, Western and World Literature, or Writing.
In British and American Literature you will be exposed to a broad range of styles, ideas, and authors, with authors ranging from the medieval world to the most current trends in English-language literature. Our students enrolled in this Literature Bachelor's Degree Program usually take courses in classical mythology, Shakespearean works and more.
The Western and World Literature concentration looks at the British and American traditions, but moves beyond them to explore the traditions outside the English-speaking world. Students will be exposed to subjects such as Russian literature as well as modern world literature.
Students in the Writing concentration experience and develop the writing process through the reading of great literary models, through collaboration with real audiences, and through editing and incorporating writing techniques and strategies into their own styles. Students learn to appreciate not only content but also style. A variety of written discourses is presented for students to emulate and to analyze as they experience their own voice through writing. Within this concentration, students will engage in composition and creative writing courses, all while coming to understand their need as writers to present truth and beauty with concision and clarity.
Note that all English majors have specific graduation requirements. During senior year, you will develop and present a well-reasoned senior thesis as well as compile a collection of written work from your years of study to be put into a diverse portfolio.
No matter what your focus area, when you leave Franciscan's English Bachelor's Degree Program, you will possess a deeper understanding of the human person, the world, and God, equipped with the ability to think critically and write well—two of the most sought-after skills by today's employers.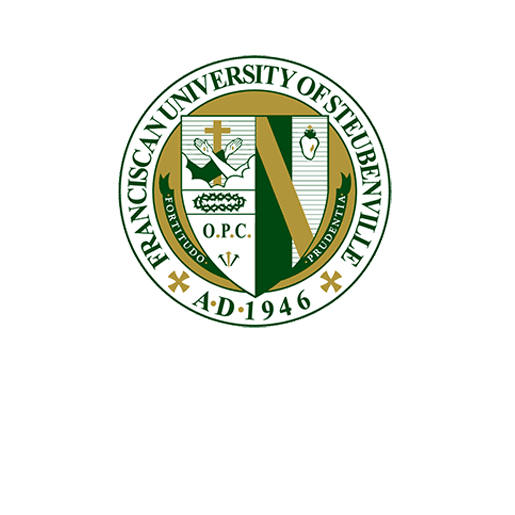 Franciscan University Press
Franciscan University Press publishes outstanding works of scholarship and artistry in the general areas of the intersection of science and faith, the intersection of philosophy and Christian theology, Catholic studies with an emphasis on Franciscanism, and biblical theology.